Keira, Grade 4, asked me to show her "the nines trick" one morning last week before school.
If you don't know it, watch Jaime Escalante/Edward James Olmos:
I did not show my daughter this trick. I am not the Finger Man. It's like she doesn't even know me!
Instead, we had a quick conversation. No time for manipulatives. Five minutes to brush her hair and pack her lunch before we had to hop in the car.
Me: You remember what a ten-frame looks like?

Keira: Yeah. Ten dots. Five and five. Array!

Me: Ok, what about nine? What does it look like?

Keira: One missing.

Me: What if there were two nines? How many?

Keira: Don't ask me that one. I already know it's eighteen.

Me: Ha! Ok, what about seven times nine?

Keira: I knew that you were going to ask me that one!

Me: What if you had seven ten-frames, each with nine dots? How many dots altogether?

Keira: Sixty… three?

Me: Why?

Keira: You start with seventy but you take seven away.
We did a few more together. Success!
Then she asked me to show her the nines trick.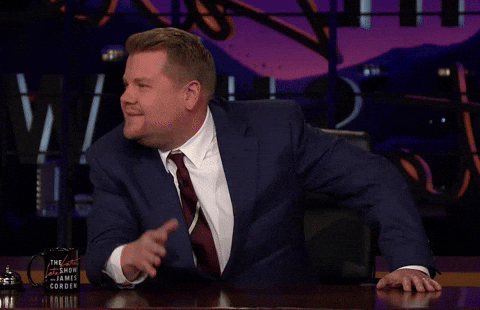 For the purpose of this post, I quickly put together this slide (and video):
In the car, Keira asked me "Can you multiply decimals? Like seven times nine point five?" This reminded me of "I'm wondering if fractions only work with circles" from Annie Fetter's #NoticeWonder Ignite talk. (We showed it at a workshop the night before.) This also reminded me of what I take for granted. Her sister and I did some explaining, but I'm wondering about a better (?) approach:
(Not my normal approach to multiplying decimals — the photo below probably had something to do with that.)